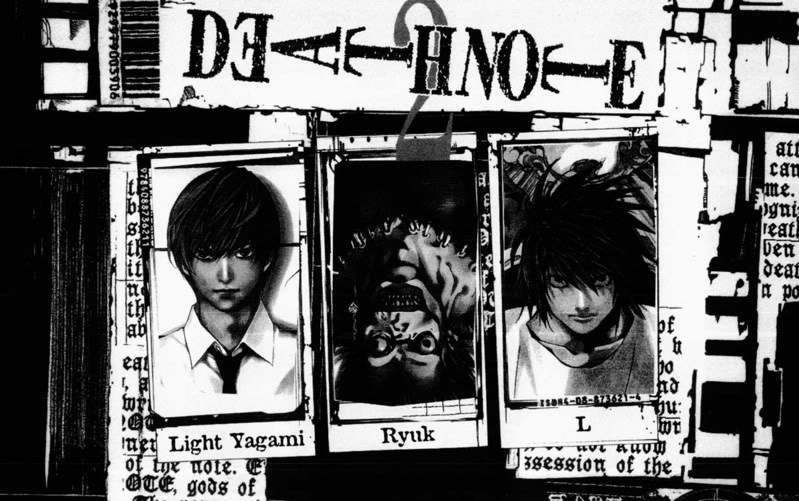 This story all happens out mostly in a small town in Japan. A young man whos name is, 'Light Yagami' attends high school & makes streight A's. Light allways thought the world was rotten & needed to be rid of criminals. Though, he had nothing to do about it. But one day during one of Light's classes, he caught sight of a book that fell from the sky & to the ground next to the window of that class. Cureious, Light waited untill the end of that period to go & look at it. Once he did, he read the rules, & thought of it as a fake, but where could it have comed from? He was on the top floor. Light left it behind once & began walking off to his home before he cureosity caught up with him & he decided to test the note book out to see if it was a real. He came home & into his room with the note & turned on the TV after reading the notes again & wrote a news caster's name in it. 40 seconds later that person died of a heart attack. After that, Ryuk showed himself to Light & called himself, a 'shinigami'. Or, God Of Death. From that moment, Light has promaced to use the note to execute crimminals & make the wold a better place, while he does this, he has called himself, 'Kira' to keep from anyone finding out who he really was.
---
Meanwhile, a misterious man named L who found out of Kira thought his brand of justice ws wrong, & needed to be brought to justice. He himself & afew other detectives have also promaced to help L in this journey to find & execute Kira; Though, they do not know how Kira kills so many people, without it being seen. Also, a young detective who calls herself, KH, has also sworn to find Kira & bring him to justice. The diffrance between both her & L is she does not care who dies in the process, she just wants to find, & kill Kira. Meanwhile, KH & L have met eachother, they have both come together to find out who Kira is & bring his to justice. Although, they both have their doubts about eachother, they cannot trust eachother fully just yet, but for now they have to deal with it.
------------------------------------------------------------------------
Light:
"Look around, there are plenty of things this world can do without. Sin, imorality, crime, It's time for a change."
The human who's name is written in this notebook shall Die.
Light:
"I have the power, to make the world, to make people better. & I'm not afraid to use it. I'm not afraid to kill. How & when it happens is entirly in my hands. All I need in a Name, a face, a pen, & this notebook."
If the cause of death is written within 40 seconds of writeing the person's name, it will happen.
If the cause of death is not specified, the person will simply die of a heart attack.
Light:
"No one can stop me."
L:
"I'm chaseing someone without a name or a face. Someone who belives he is on the rightious path, ridding the world of criminals; but his brand of justice is mis-allighned. By acting as a God, he himself has become the criminal."
The human who uses this note can neither go to heaven nor hell.
L:
"It's my duty, no my calling, to find him, & show him what justice truely means. He'll hear me, but He'll never see me comeing. & when I find him, his capture will be the world's operation. I'll uncover Kira's real identity if it's the last thing I do."
Both:
" I swear, I am justice!"
Light:
"Kill me-------"
L:
"-------if you can!"
----------
It's your story now, make it your own, let's see if you make it to the top.